Is there anything more comforting than the smell of fresh-baked pizza?
If you're looking for an authentic wood-fired oven experience, a Bertello pizza oven is perfect for your kitchen.
On the hunt for a high-quality pizza oven that won't break the bank? Bertello might be the perfect option for you.
So whether you're in the market for a new oven or just curious about what all the fuss is about, read on for a detailed look at Bertello ovens!
In this comprehensive Bertello Pizza Oven Review, we'll take a close look at the pros and cons of this popular pizza oven and provide a helpful guide on how to use it properly.
Whether you're a beginner or a seasoned pro, this blog post will have all the information you need to decide whether or not Bertello is right for you.
So, if you're ready to start making your incredible pizzas at home, keep reading!
Our Verdict: Bertello Pizza Oven Review
The Bertello Pizza Oven was featured on Shark Tank and quickly gained popularity for its unique design and capabilities.
The oven is fueled by wood, charcoal, or gas and can reach temperatures up to 1000 degrees Fahrenheit, perfect for cooking pizzas, bread, meats, and more.
The compact size and portability of the oven make it ideal for tailgating, camping or picnicking, and the included carry case ensures that it will be protected from the elements.
The Bertello Pizza Oven lived up to its hype in terms of performance, cooking pizzas evenly and quickly. The included cordierite stone helps absorb moisture and ensure that the pizza crust is crispy, while the built-in thermometer allows you to monitor the oven's temperature at all times.
The only downsides of the oven are its relatively high price tag and its requiring some assembly before use.
However, if you're looking for a quality pizza oven that will provide years of enjoyment, the Bertello is certainly worth considering.
What we like
Can reach temperatures up to 1000 degrees Fahrenheit
Comes with a carry case for easy portability
Includes a cordierite stone for evenly cooked pizzas
Built-in thermometer lets you monitor the temperature of the oven
Things need to be considered
Pricey compared to other pizza ovens on the market
Requires some assembly before use
Bertello Pizza Oven Review: 6 Things We Love
First, I'm going to tell you about the things that I love that I'm going to tell you about the things that I hate, and then I'm going to give you a complete walk-through tutorial with a bunch of tips to make the best pie possible.
A lot of fun while using it
This oven is a lot of fun. I'm a perfectionist – and I like to learn, so playing around with the pellet flavors and working on different techniques has been a blast going into this.
I knew next to nothing about pizza. That's a disaster, but with every cook, I'm getting better and better, and now it's pretty satisfying to show off to your friends and family some professional tasting crust.
Fast Cook – only in 3 minutes
The actual cook time is way faster than a traditional oven.
I used to cook my pizzas at 450 degrees, And it would take about 15 minutes, but when you're cooking at over 800 degrees, it only takes a few minutes.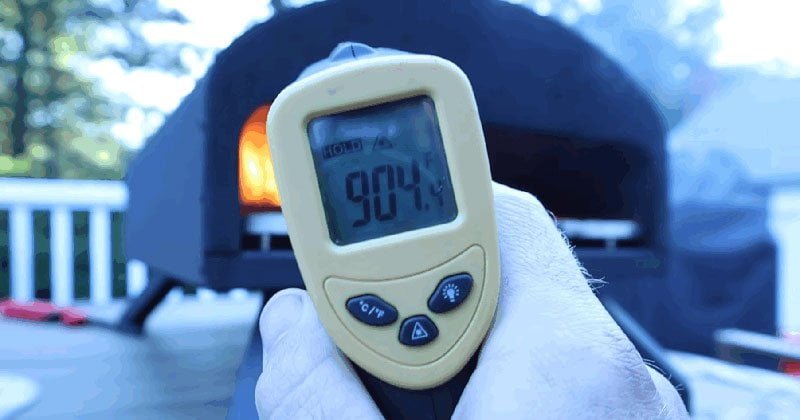 When I first heard that you could get a pizza cooked in just 3 minutes, I didn't think it sounded right, but I can confirm it's true.
Amazing taste (like restaurant quality)
The taste is fantastic. The advantage of cooking at a hotter temperature than your traditional oven is that you'll get a super crispy outer shell Of your crust, but the inside stays so soft and squishy. It's the perfect combo.
Customizable
Plus, you can subtly play around with the taste based on what kind of wood pellets or wood chunks you use, so for my upcoming tutorial, I'll, be using cherry wood pellets. But before that, I was using exclusively oak.
It's portable
This oven is lightweight and portable. It's not your typical brick oven, that's Immovable and permanent, and you could potentially bring this camping or to a cookout without much inconvenience at all.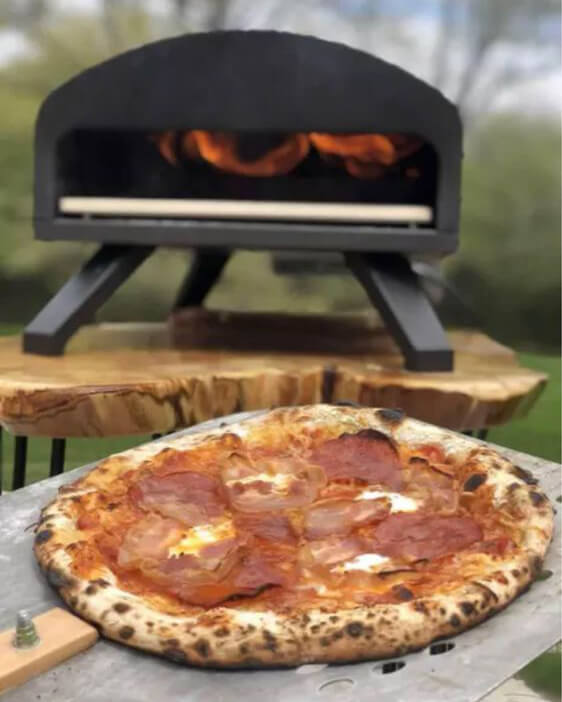 A great choice for enjoying your summer pizza
I love pizza, but cooking pizza inside during the summer months is not an option. Sometimes the house gets way too hot patella fixes this.
List of Main Negative Things
Now is the time to be frank about the inadequacies of Bertello Pizza Oven Review – the Shark Tank-sponsored pizza oven.
Lack of resources
There aren't any good resources on how to use this oven. I was hoping there would be a bunch of Reddit threads And a huge youtube community with tips and tricks and tutorials, but there's nothing right.
The good news is that the Bertello oven was on the shark tank, and Mr Wonderful invested in it.
So potentially, the community will get bigger as more people buy, but right now, it seems like a huge, missed opportunity for Bertello not to have these resources are regular.
People like me are Just supposed to understand how to use a pizza oven properly without any instruction. I don't think so.
I hope this video helps people, but we need other resources.
Huge projects
Cooking with this oven is a massive project, but the pizza does taste better. Does it warrant an extra hour of your time? Does the pizza taste 300 better than your regular oven? The answer to both of these is no, but That's okay.
You have to understand that it's time-consuming, and you have to enjoy doing it.
Not easy to take out the pellet tray when cleaning
You need to clean out the ash and wipe off the pizza stone every time you use this, which is fine, but there's no easy way to take out the pellet tray.
It would help if you reached your entire arm inside the oven to get the tray out, which results in your whole arm.
It's not ideal to turn black, and you'll have to clean out all the soot inside the oven every few cooking sessions because it gets nasty.
I like to use the grill brush to get all the big chunks off, and then I use the trigger all-natural cleaner with paper towels to get the rest off.
The front is cooler.
This isn't a professional oven, and the air doesn't circulate evenly, so you'll have to rotate your pizza as it cooks, which isn't always that easy.
Temperature control is hard for amateurs
It's tough to maintain the Proper temperature. You want the oven as hot as possible, but with that being said, you also don't like outrageous flames, because you don't want to burn all your cheese off, so you need hot but low flame, and that's hard to do. You only have a tiny window to pull this off.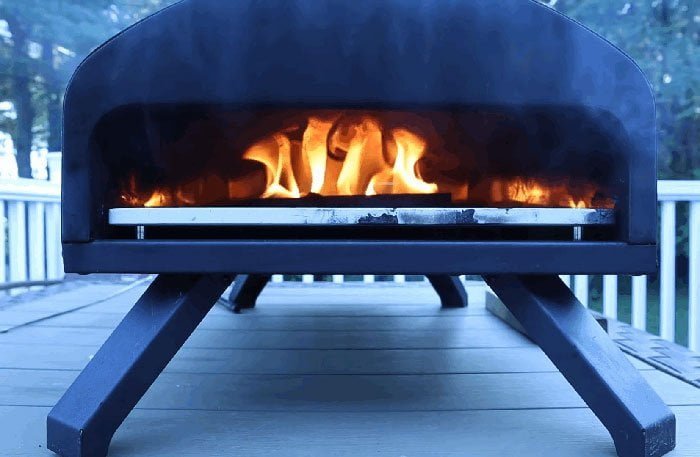 A couple of times, I had the perfect temperature and flame, so I went inside to grab the pizza to put it on And in those two minutes, I came back, and the oven was only at 400 degrees.
The solution to fix those negative things while using Bertello Pizza Oven
A lot of this can be fixed by buying their propane attachment. The propane attachment will let you get the oven nice and hot once you're ready to cook.
You can add your flavored pellets to add the flavor. So it's the best of both worlds. You get the propane heat to turn it to low, and then you get the Flavor from the wood.
I haven't tried this yet, but it looks intriguing but the downside is that this will cost 120 dollars because you need the propane attachment and a new wood tray.
Smaller than ideals
I make a standard dough recipe, and the dough typically comes out to about 12 inches, and while this oven can fit a 12-inch pizza, technically, it's just too tight to maneuver around. So I make my pizzas smaller Than I usually would, and everything goes fine.
No temp gauge
The final downside is that the oven doesn't have a temperature gauge, so you'll have to buy an infrared thermometer gun.
Overview of Bertello Pizza Oven Review
Introducing the Bertello Outdoor Pizza Oven Everything Bundle – the perfect kit for anyone who wants to cook authentic wood fire and gas brick oven pizza.
This bundle includes the Bertello oven, our gas burner attachment, a pizza peel, a wood tray for the gas burner, a cover, and a thermometer.
You can use either charcoal or pellets in the Bertello oven to create a real wood fire taste or use the gas burner attachment to cook with gas – giving you the maximum flexibility in your culinary creations.
The Bertello Outdoor Pizza Oven reaches temperatures of over 930 degrees Fahrenheit (500 Celsius), so you can create restaurant-quality pizzas right at home.
Highlight featured that sets Bertello apart from the rest.
The Bertello Pizza Oven review is one of the only outdoor pizza ovens on the market that can be used with both wood and propane at the same time.
It comes with a gas burner attachment, so you have the option to cook with either charcoal or pellets to get that real wood fired taste, or you can use the gas burner attachment to cook with gas.
It also has a temperature gauge on the front, so you can always know what temperature your oven is at, and it has a sleek black design that will look great in any backyard.
What are people saying who have purchased Bertello?
"I am very impressed with how well this oven works. I've cooked pizzas and chicken and steak on it, and they've all come out great. The temperature gauge is very accurate, and the oven heats up quickly. I would recommend this oven to anyone."

"I love my Bertello pizza oven! It's so easy to use, and it always cooks my pizzas perfectly. The gas burner attachment is also a great addition; it gives me the option to cook with either wood or propane."

"This oven is amazing! It gets super hot and cooks the pizzas perfectly. I've tried other outdoor pizza ovens before, but this one is the best."
If you're looking for an outdoor pizza oven that can be used with both wood and propane and that has a sleek black design, then the Bertello Outdoor Pizza Oven is the perfect choice for you.
Deep Dive Into Bertello Pizza Oven Features
In this part of, we will take a deep dive into the features of the Bertello pizza oven review. Whether you are an experienced baker or just starting, this oven is perfect for you!
With its intuitive controls and spacious interior, you can create delicious pizzas that will amaze your friends and family.
So read on to learn more about this top-of-the-line pizza oven!
Ease of setup
The Bertello pizza oven is very easy to set up and use.
It comes with an instruction manual that is easy to follow, and it only takes a few minutes to assemble. Once you have assembled the oven, you can start cooking immediately!
Ease of Use
The Bertello wood-fired oven is a model that will require the assistance of dedicated fire tenders.
Although it can reach high temperatures, there's no room for error because even one bad move could result in burnt dough or toppings – not to mention costly repairs!
Despite its conflicting performance categories (high heat versus rapid fuel consumption), we gave them an average score on ease of use due largely owed their size restrictions as well: only specific models fit into most standard home kitchens without modifications.
While the back cap on your gas oven allows air to flow in just one direction, whenever you remove it and put wood inside for burning, there is a serious amount of blowback, which results in flames shooting out from behind.
Fortunately, these problems can both be avoided by using a simpler burner system that has no need to operate in such close proximity since all operations happen at once under control by turning over pizzas regularly while monitoring their progress closely, so they do not turn blackened lumps coal due its high temperature near the top
Heats quickly and evenly.
One of the most essential features of a good pizza oven is that it heats up quickly and evenly.
The Bertello pizza oven heats up in just 10 minutes, and its internal temperature is evenly distributed so that your pizzas will cook perfectly every time.
Functionality
This oven can cook a Neapolitan pizza in less than 2 minutes, but it also has the ability to sear meats and vegetables beautifully.
The big secret behind its impressive claim that "cooks food at over 930 degrees Fahrenheit on a 12'5″ wide x 13 deep cooking surface" comes from how hot this unit runs- typically ranging between 950 -1000 degrees Fahrenheit!
This contrasts starkly with traditional wood-fired pizzas, which often take quite some time before they reach their desired temperature range
This is not just any standard functional kitchen appliance either; consider yourself impressed by what you find within: variable designs similar to those found across Africa, including implements such as burners made out of cast iron or stainless steel.
Cooking performance
With the Bertello oven, you can fire up to two cooks at once.
This model comes standard as a wood-fired grill and more forgiving but less convenient than using natural gas for faster cooking times of five or seven minutes on average stone temperatures just over 500 degrees Fahrenheit which are perfect if your goal is making low fired styles like Neapolitan pizza!
Once I had learned how to properly cook these pizzas with my newfound skills in place, installing an additional line became easy because there was no need to convert anything else within this powerful machine aside from turning off one switch before hooking everything back up again.
The Bertello is the hottest oven we tested when using its gas attachment.
With its 774°F oven temperature, the Bertello can produce some incredible pizzas. It's even possible to achieve puffy golden crusts in just 60 seconds!
But as with all things fire-related, there are tradeoffs between browning vs. crispness, and this will depend on what type you're trying for – The neapolitan style requires higher temperatures to take longer than other styles.
But at least they'll be perfect every time, thanks largely due to more sugars present on their surface, which burn off during the cooking process while
Design and Specs
The 36″ x 24″ portable pizza oven is the perfect accessory for any outdoor cookout or tailgating party. It will easily fit in your car, on top of furniture at home – anywhere you need to use it!
Whether cooking up some delicious food while camping, with its lightweight design (only 32 pounds), this unit can be used by anyone whose age may seem like.
The oven itself is a very diverse and highly customizable appliance, with many different styles to choose from. Many people say it is very similar in design to the Ooni Karu.
Shape & Size
The Bertello oven is a great choice for those who want their cooking experience to be fast and easy. A compact chamber allows it to be stored anywhere.
At the same time, the folding legs make carrying this portable device a simple task without the worry of damaging anything or wasting time putting everything away once we're done using our meal-prepping spot!
The gas attachment does add some bulk but provides an additional 10 inches when attached so that you can use your favorite kitchen appliance regardless if there's electricity nearby OR not – which means less hassle taking care finds space around yours since these things always seem limitlessly expandable no matter how much.
What Other Pizza Ovens Should You Consider?
The Bertello Outdoor pizza oven is a relative newcomer to the market. With some design tweaks, both control and ease of use can be enhanced for chefs alike – but drawbacks may throw you off from buying this product!
If that's true, consider checking out our favorite alternative: Gozney Roccbox, which also runs on multiple fuel types without needlessly complicated settings or adjustments; just turn it on & enjoy fresh-baked pizzas right away what type(s)of food preparation equipment your restaurant uses already.
Gozney Roccbox Overview (Compare to Bertello)
If you're looking for a fully portable pizza oven that runs on multiple fuel types and doesn't require any complicated settings or adjustments – the Roccbox is the one for you!
This oven was designed with the needs of both professional and home cooks in mind. It's easy to use; just turn it on and start cooking!
And with its included temperature gauge, you can be sure that your pizzas will be cooked to perfection every time.
The Roccbox is also one of the most versatile pizza ovens on the market, capable of running on wood and gas. This means that you can use it anywhere, whether at home or out camping.
So, Who should buy Bertello Pizza Oven?
The Bertello pizza oven was an item that I never knew I needed, but I'm super glad that I have it now. It's a lot of fun. I recommend the bertello oven to anybody who's.
Looking for a good combination of a fun activity and tasty pizza, you must understand that it's a time-consuming process, and there's a steep learning curve.
FAQs related to Bertello Pizza Oven Review
Is Bertello a good pizza oven?
There is no denying that the Bertello pizza oven is a great product.
It is one of the few pizza ovens on the market that can reach 900 degrees Fahrenheit, which is the optimal temperature for cooking a pizzeria-quality pizza.
The oven also has a built-in gas regulator and an automatic shut-off feature, which makes it very safe to use.
What can you cook in a Bertello pizza oven?
The Bertello pizza oven can be used to cook pizzas, as well as other dishes such as bread, cookies, and even meats.
What is the best way to clean a Bertello pizza oven?
The best way to clean the Bertello pizza oven is to use the included brush and scraper tool. Simply brush off any loose debris and then scrape away any stubborn bits.
If you need to, you can also use a mild detergent and water to clean the interior of the oven.
How long does it take for Bertello pizza oven to heat up?
It takes about 20 minutes for the Bertello pizza oven to heat up to 900 degrees Fahrenheit.
Can you use wood in a Bertello pizza oven?
Yes, you can use wood in the Bertello pizza oven. However, it is important to only use well-seasoned hardwood, such as oak or hickory. Softwoods, such as pine, will not provide enough heat and will also create a lot of smoke.
Is the Bertello pizza oven safe to use?
Yes, the Bertello pizza oven is safe to use. It has a built-in gas regulator and an automatic shut-off feature that kicks in when the oven gets too hot.
What are the dimensions of the Bertello pizza oven?
The Bertello pizza oven has a width of 19 inches, a depth of 12.5 inches, and a height of 10.5 inches.
How to clean a Bertello pizza stone?
The best way to clean the Bertello pizza stone is to use a stiff brush and some hot water. You can also use a mild detergent if necessary. Once the stone is clean, be sure to dry it completely before using it again.
Can you use the Bertello pizza oven indoors?
Yes, you can use the Bertello pizza oven indoors. However, it is important to make sure that there is adequate ventilation in the room where the oven will be used.
We provide a list of the best indoor ovens, you can refer to to make the right choice for you.
Which is better Ooni vs Bertello?
There is no clear winner when it comes to Ooni vs Bertello. Both ovens are very well made and can reach high temperatures, making them both great for cooking pizzas.
However, the Ooni pizza oven is slightly smaller and lighter, making it more portable. The Bertello pizza oven has a built-in gas regulator and an automatic shut-off feature, which makes it safer to use.
What is the difference between a wood-fired pizza oven and a gas pizza oven?
A wood-fired pizza oven uses wood as its primary fuel source, while a gas pizza oven uses natural gas or propane. Both types of ovens can reach high temperatures, but a wood-fired pizza oven will have a more authentic flavor.
Final Thought on Bertello Pizza Oven Review
The Bertello Outdoor pizza oven is a compact powerhouse that can produce the extreme temperatures necessary to turn out an authentic Neapolitan-style pizza in less than 90 seconds.
It features one of few models capable of generating this level of heating power and airflow, resulting in attractive rolling flame as well 12″ pizzas cooked perfectly every time!
Though this oven offers serious capability at a reasonable price point, it could still use some design tweaks to improve control.
Its performance makes for an excellent supplement in any kitchen well equipped with other appliances!
---
Further Reading