When you think about comfort food, pizza comes to mind! For most people, pizza is the best thing on a happy day or after a long one. Luckily, pizzas can be served as snacks or as the main meal.
However, like most people, you might be stuck with the biggest problem. This will be not knowing the available pizza sizes and how many pizzas you'll need. This guide will be your go-to when you want to know the pizza sizes you will need for your next family night.
How Is Pizza Size Measured?
Pizzas are sized according to their diameter; as a result, a pizza with a diameter of 10 inches is considered "Personal," one with a diameter of 12 inches is "Small," and one with a diameter of 14 inches is "Medium." Additionally, one with a diameter of 16 inches is "Large." while one with a diameter of 18 inches is "Extra-Large."
What Are the Different Pizza Sizes?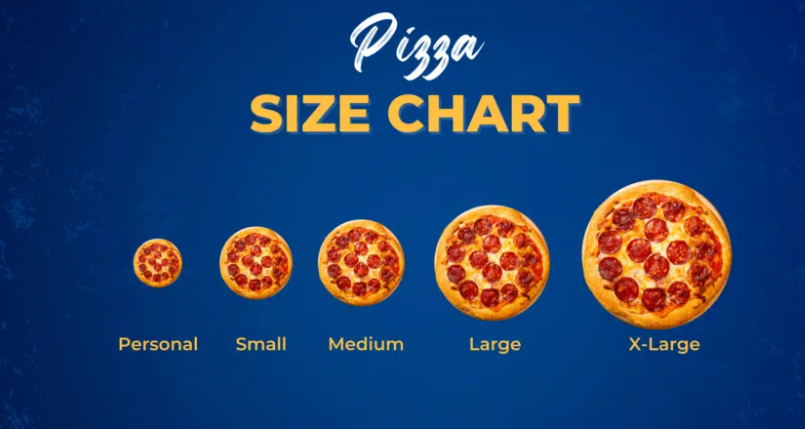 Image Credits: homemadepizzapro.com
Pizza sizes are a huge factor when deciding how many pizzas to order, so you need to know all the options. However, pizza sizes are not universal, and although most companies follow these standards, not all, especially the local shops, do.
In addition, even for brands, the pizza sizing isn't uniform and consistent. Although some pizza makers may adhere to their unique measurements, they will never be off by a significant amount.
In other words, because the dimensions will only be slightly wrong, you don't need to worry about your neighborhood pizzeria not sticking to these measurements. Below are the average sizes of pizzas in most standard pizza restaurants, including the number of slices each size will have.
1. Personal Pizza
Image Credits: youtube.com
Personal pizzas are the smallest pizza sizes you can order. They are 7 inches in diameter and give you roughly 38.5 square inches of pizza. A personal pizza is enough for a fairly hungry adult, but only if sides are available.
2. Small Pizza
Image Credits: letizza.com.au
Small pizzas have an average diameter size of between 8 and 10 inches and will give about six slices. A small pizza is enough for two people with an average appetite, but it could also cater to three to four people, especially when there are sides.
A small pizza is perfect if you are ordering for the kids in the family or want to choose a unique pizza topping for a specific guest to enjoy.
3. Medium Pizza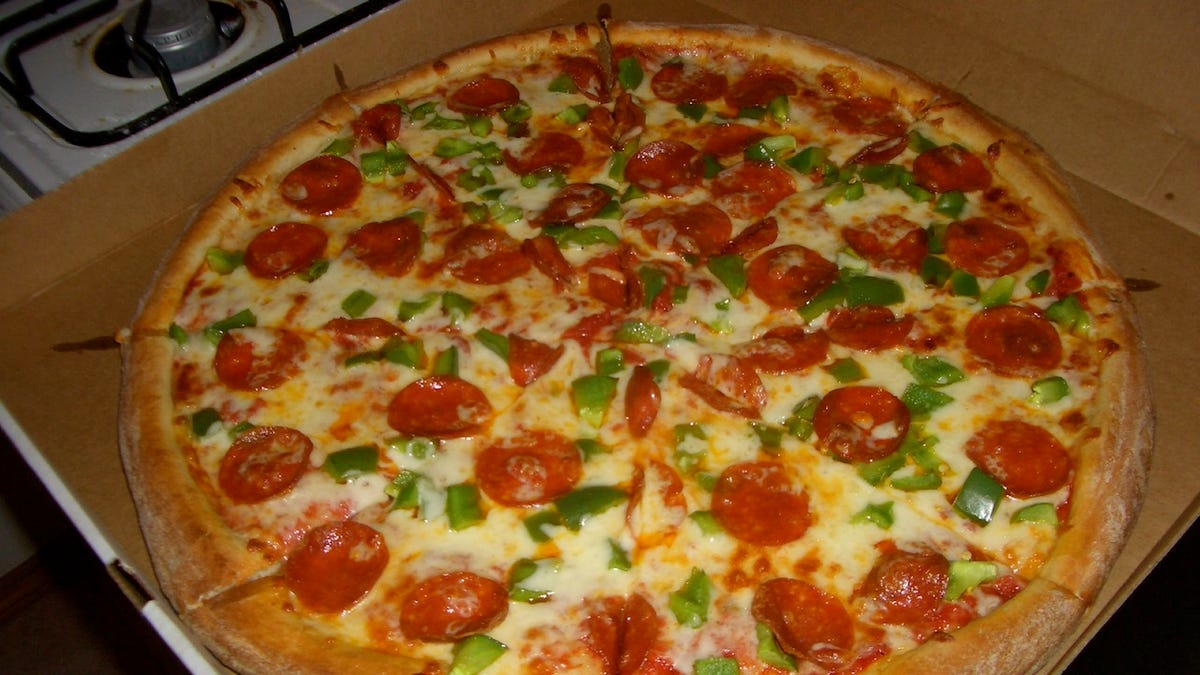 Image Credits: lisbonlx.com
Medium pizzas have an average diameter size of 12 inches and will give about eight slices. A medium pizza is a perfect pizza size for three people with an average appetite or four people with a small appetite.
Medium-sized pizzas are ideal for a pizza night with your significant other or family. You can order unique pizza toppings on a medium pizza, like plain cheese or pepperoni.
However, this size may not be the best solution if you are hungry and want it to be the main meal. This means you will either need a side dish or order another size.
4. Large Pizza
Image Credits: blogspot.com
Large pizzas have an average diameter of 14 inches and give about ten slices. A large pizza is perfect for people with an average appetite, that can be two adults or four children as a meal.
5. Extra-Large Pizza
Extra large pizzas have an average diameter size of between 16 and 18 inches and will give about 12 slices. An extra-large pizza is perfect for five to six adults with major pizza appetites or more people if you have sides. We recommend choosing the most common toppings for extra-large pizzas.
Image Credits: savelo.coupons
When placing your order over the phone, be sure to confirm the pizza slices because they can vary from one pizza place to another. For example, suppose a big cheese pizza is cut into 8 slices at your neighborhood pizzeria. In that case, they can cut the pizza into additional slices to accommodate your group, as most joints are happy to fulfill unique requests.
When ordering pizza for children, use this pro tip to ensure that they can easily manage smaller portions. You can also get the pizza uncut to make it easier for yourself.
Is it Important to Choose the Right Pizza Size?
Pizza size is a crucial consideration when preparing or ordering pizza. Whether you're ordering just for yourself, your family, or a party, you want to ensure everyone has plenty.
Since no one eats just one pizza slice, and you don't want several people grabbing the final one, it's always preferable to have more than necessary instead of enough.
Knowing the best size will ensure you get the right amount for your people.
How Many Pizzas Do I Need?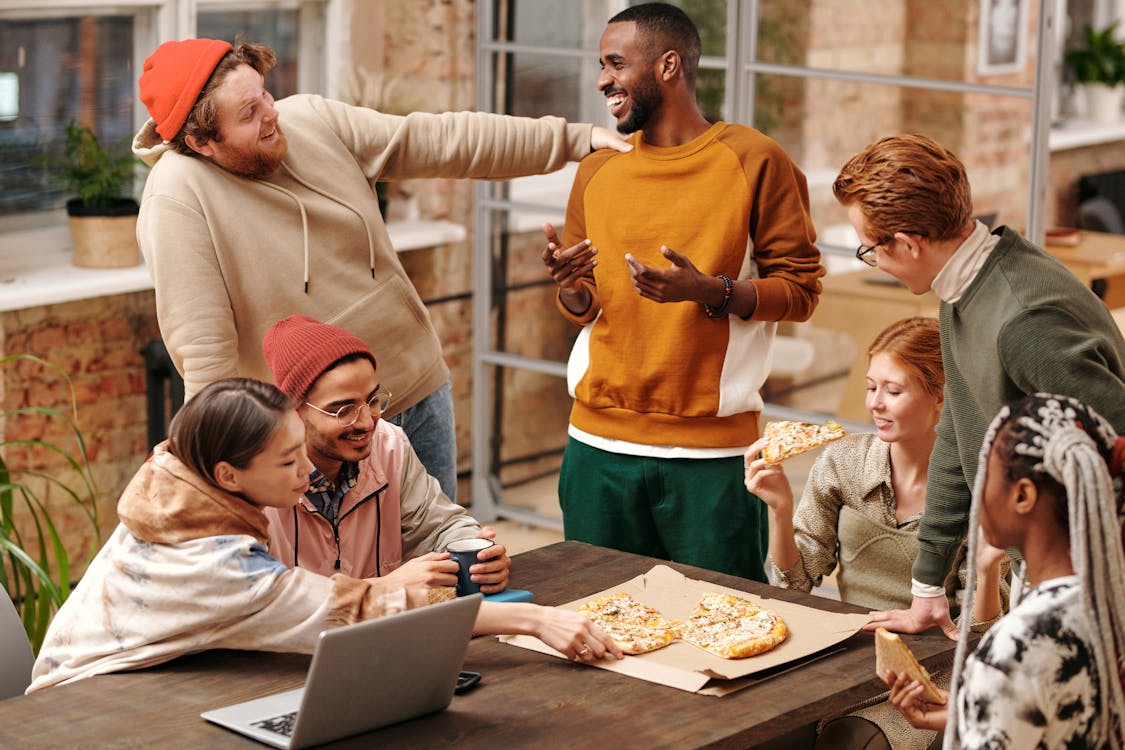 The 3/8 rule is the most reliable method for calculating how many pizzas you need to order. The average large pizza provides about eight slices; each guest will probably consume three of them.
Ensure you round up and calculate with whole numbers and order less or more depending on your party's needs. With this 3/8 rule, and depending on the number of people you are ordering for, you should use the guideline below:
Notably, the above guideline is for a large pizza, but how many pizzas to order will depend on the pizza sizes you choose.
Should I Get Two Medium Pizzas or One Large Pizza?
The general answer is it depends on the number of guests you are feeding. For example, the average medium pizza will cost $10 for six slices, and the average large pizza costs several dollars more for eight slices; assume you are not getting toppings.
So, you should order three medium pizzas if you're trying to feed around five individuals. However, if you intend to feed fewer people, you can spend less money buying two large pizzas.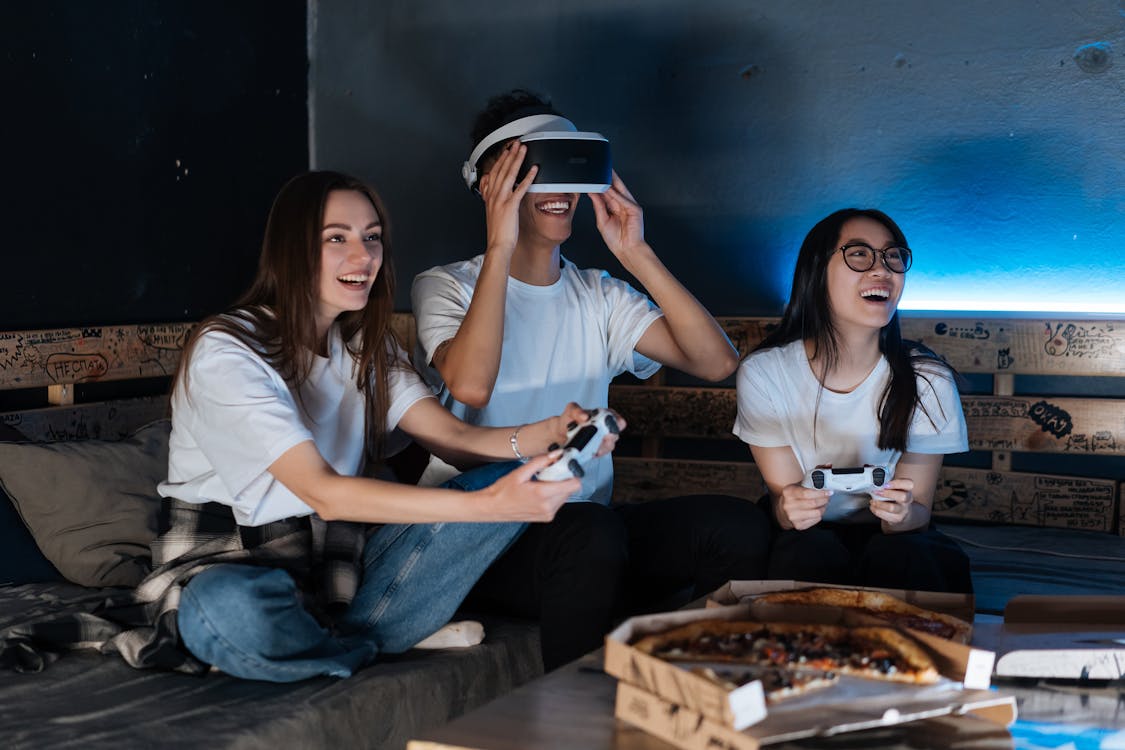 Another example is that you will need about 45 slices to feed 15 people. So, you can either order six large pizzas or eight medium-sized pizzas. But in this case, buying six big pizzas will save you money.
Generally, the toppings will determine what works best for your gathering. For example, medium-sized pizzas might be better if you require a wider variety of topping choices. Alternatively, you might purchase a larger pizza if everyone agrees on what they want.
Factors to Consider When Ordering the Right Pizza Size
1. Number of Adults vs. Children
Knowing how many guests you're buying pizza for is crucial, but knowing who those guests are is even more important. So consider whether they are adults or kids.
Since kids typically consume less food than the average adult,children have a significant role in pizza orders. Since they consume less, you will not order as much pizza as you would with an adult gathering.
2. Appetite Level
Finding out how hungry your guests are is an important factor to consider before you think of making or buying your pizzas. It's better to avoid pre-ordering pizza since you can either end up ordering too much or not enough.
To cater to all appetites, multiply the number of adults by three slices and the number of kids by two slices. Then order a pizza that totals up both results.
If you are concerned that there might be leftovers, you can ask your guests to carry some home to enjoy later.
3. Different Toppings
Everyone has a favorite pizza. Therefore, it's a good idea to choose it first since it may affect the size of the pizza you receive.
You might wish to order a medium meat pizza and a medium vegetarian one rather than just one large pizza because some guests might not eat meat.
The same is true of something like pineapple. It's not everyone's favorite pizza topping, and it won't be smart to order a large Hawaiian pizza if fewer people enjoy it.
4. Know How Many Slices are in Each Size
Image Credits: blogspot.com
Since different pizzas have varying diameters, the slices are not the same size. Therefore, knowing how many slices are in any standard pizza is a great way of deciding whether to buy multiple pizza sizes.
Perhaps after using the pizza calculator to determine how much pizza you need, you conclude that you only need 3 pizzas but that you'd like to have a few extra for later. So order a pizza with an extra number of slices to satisfy later cravings.
This is an excellent approach to provide visitors with smaller bites because sometimes guests request another pizza slice but don't want to commit to a complete one.
Another hack for the number of slices is to ask the pizza chain to double-cut your pizza. A double-cut pizza is one cut into twice the number of slices. This means if you are ordering a large cheese pizza, you will get 16 small slices instead of the standard eight slices.
This option also works perfectly for children's parties or situations where you are unsure of how many servings you will need.
5. Occasion
Many occasions call for a pizza, whether you are looking for the right pizza sizes for your birthday party and you will have people around, or it's a summer day, and you just want it. Knowing the occasion helps you decide how many pizzas you need to order.
There are some popular occasions people order pizza, including:
Graduation party
Halloween party
Moving into a new house
New Years and Christmas Eve
Family or friend get-togethers
Thanksgiving
For example, you must get plenty of pizzas if your order is for a pizza party. However, if your occasion has other foods on the menu, it would mean you would need to order less since the pizza will be more of an appetizer or snack.
6. Pizza Vendor
Your pizza's size is directly influenced by the pizza delivery service that you buy from. The recipes, toppings, and sizes vary among the pizza chains. Consider the restaurant when estimating how many pizzas to get to avoid ordering less or more.
7. Number of Servings
How long will your celebration continue? More pizza is required if you're going to stay at a campsite for a week instead of having Thanksgiving dinner together.
To determine how many pizzas to order, multiply the number of servings by the total number of pizzas needed to feed everyone at once.
Also, to guarantee you're eating fresh pizza if you're spending a week outside, let the delivery happen every day.
8. Crust
Another consideration when purchasing a pizza is if your family prefers thin or thick crusts, which can significantly influence the ideal size for your family. The type of pizza you are ordering also affects the quantity you should get since some pizza styles leave you more full than others. This means your guests will enjoy fewer slices.
If they prefer a thin crust, then an 18-inch pizza pie will be enough but ensure it has enough pizza toppings. Also, for a very thin-crust pizza, you might need to order more pizza slices to make up for the thickness difference.
In contrast, if your guests prefer a thick crust, then opt for a small, medium, or large pizza, as they all offer different crust thicknesses. Notably, you will need to minimize the number of slices you calculate because of the dense pizza.
However, if your guests enjoy both types of crust, opt for a 16-inch pizza since it has three different thicknesses.
9. Pizza Toppings
Nobody wants to argue about the toppings on their pizza. However, among pizza purists, the topic continues to be contentious.
In a 2019 YouGov survey, 52% of Americans rated pepperoni as their preferred pizza topping, followed by sausage (34%), mushrooms (31%), and onions (18%). This clearly shows that not everyone agrees, so you should get input on people's preferred toppings before placing your order to prevent pizza wars in your home.
For toppings, you also need to consider these two things:
a) Speciality Pizzas
These feature a combination of the best pizza toppings according to your and your guests' preferences. If unsure, don't be afraid to ask to avoid remaining with leftovers.
b) Adding Extra Toppings
More than two toppings for each pizza will make your pizza a bit thicker than using one. Also, when it's paired with a special or thick crust, extra toppings on your pizza slice will give each more heaviness than a thin crust pizza with one topping.
Conclusion on Pizza Sizes
If, after using the 3/8 method or the pizza calculator and you are still unsure about the best pizza sizes for your meal or pizza party, you should still go for it, as you will learn on the way.
Sometimes you cannot know beforehand how many slices will be enough, and in that case, purchase a large pizza or an extra large pizza. After all, you can always reheat it the next day.