Pizza is quickly becoming one of America's favorite foods. So if you're looking for affordable and tasty pizza in the United States, go no further than Domino's! But what are Domino's pizza sizes and prices? And, how many should one order?
The largest pizza at Domino's is 16″ wide, $12.99, features 12 slices, and serves 5-8 people. The 14-inch medium pizza costs $10.99. Domino's cheapest pizza is around 9.5 inches in diameter, costs $6.99, offers up to 6 slices, and is good for feeding two to three people.
Pizzas have various crust types: hand-tossed, pan, thin, Brooklyn style, or artisan. The pizzas also come in four sizes: small, medium, large, and extra-large.
But how big is a typical Domino's pizza? What is the price? How many pizzas from Domino's should you get?
History of the Domino's Pizza
Domino's is a pizza company with over 10,000 locations across the globe. It's the largest pizza chain outside of America and number two in the United States.
Domino's Pizza, Inc company, was founded in 1960 and had its corporate headquarters in Domino Farms Park in Ann Arbor, Michigan. The company has approximately 16,000 franchises in 85 countries.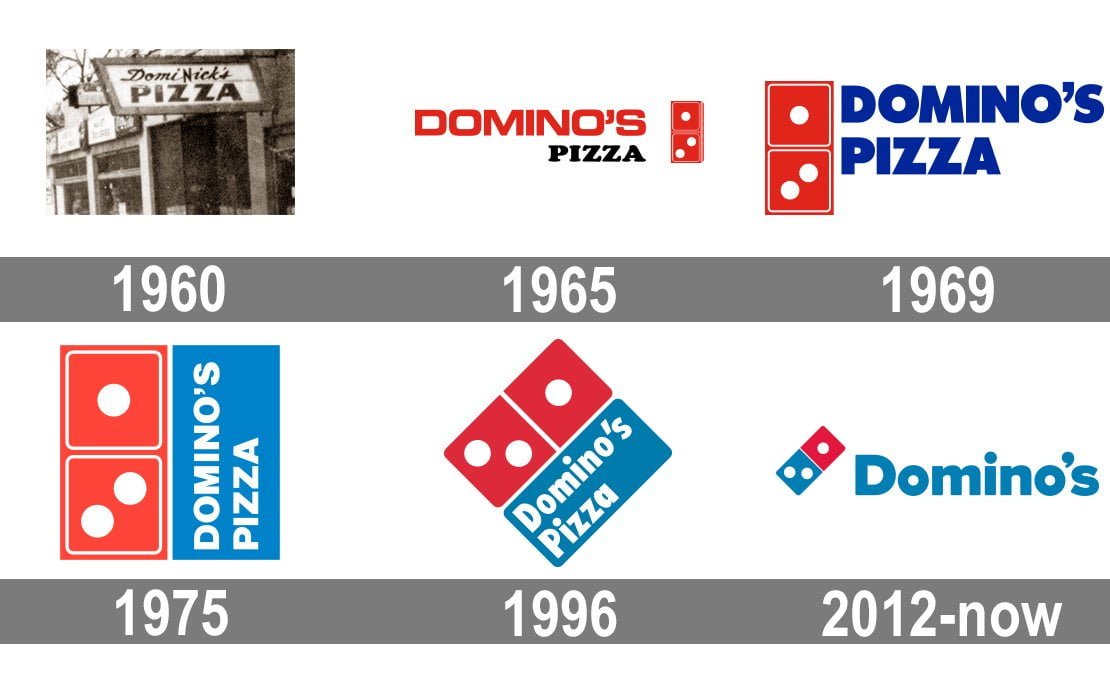 Tom Monoghan co-founded Domino's Pizza and owned it until 1998, when Bain Capital, Inc bought it from him. At the time, politician Mitt Romney was a shareholder in Bain Capital.
However, the Domino's Pizza, Inc. franchise corporation is already publicly traded and trades as DPZ on the New York Stock Exchange.
Domino's offers a variety of dishes. However, the menu in the United States is different from the one in Asia or Europe. The American menu features dinners, sides, and drinks inspired by Italy and the rest of the Western hemisphere.
Domino's is mostly known for its pizza, but to stay competitive, they have significantly expanded its menu. Besides pizza, Domino's now offers a variety of spaghetti, bread, sandwiches, chicken wings, and salads.
The main focus of the eatery is Domino's pizza. Pizzas come in both traditional and unique versions with various toppings and crust designs. Also, Domino's pizzas are available at various prices and sizes.
According to Forbes, Domino's sells more than 400 million pizzas in the United States annually. Every day, the pizza company sells more than 1.5 million pizzas worldwide! Domino's has a pizza for every customer!
List of Domino's Restaurants in the U.S.
In 2020, there were 78,092 pizza joints in the United States, the highest number ever recorded. In addition, pizza-related businesses numbered just over 75,000 establishments in 2021.
While the numbers varied from year to year, over the previous nine years, there has been an increase of almost 6,000 units in the number of pizza restaurants in the U.S. Here are some locations.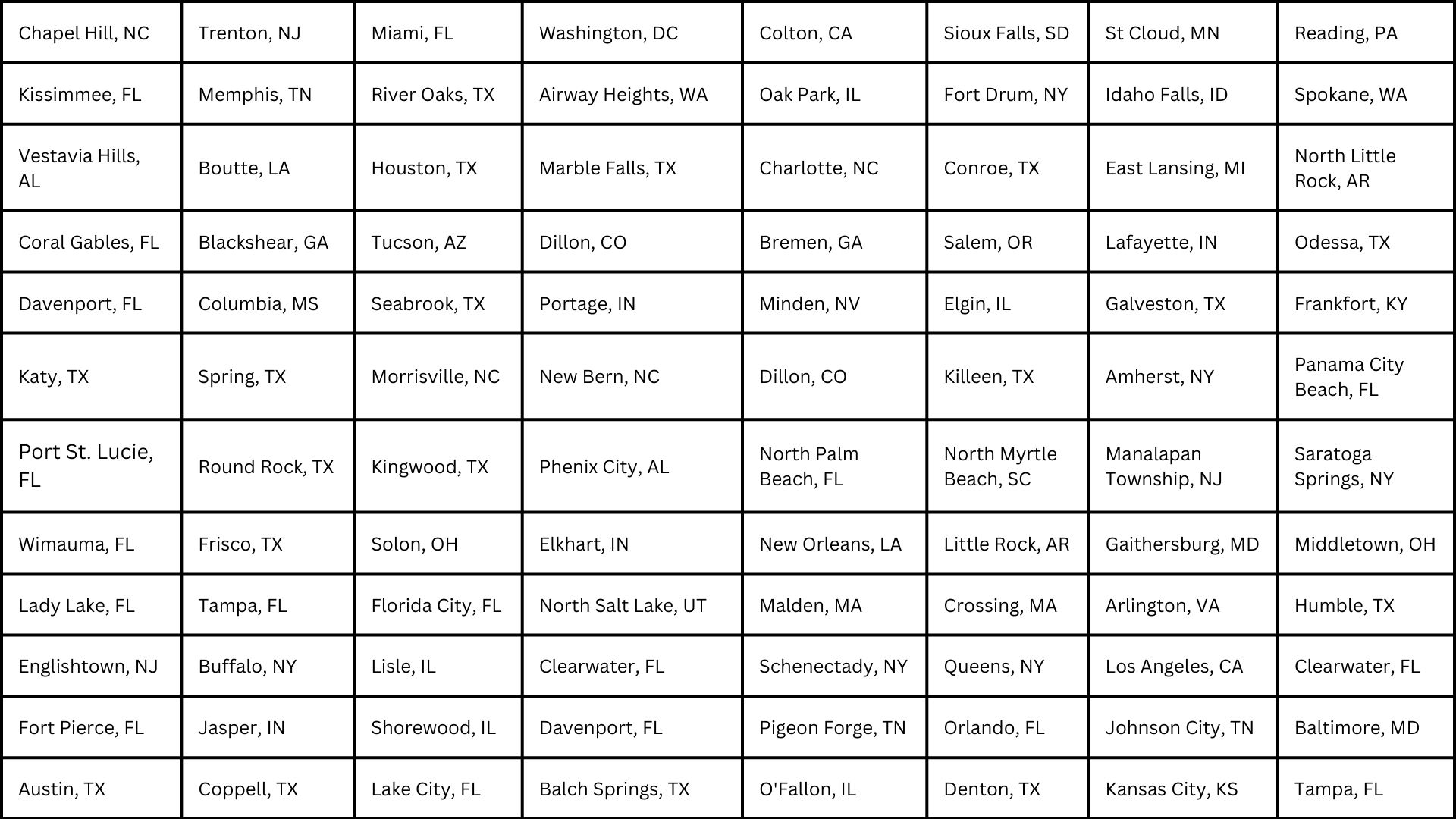 Domino's Pizza Size & Price- Types Of Pizza Sold At Domino's
Domino's pricing is displayed here, but it is recommended that you visit Domino's website to get the most up-to-date costs for your area.
1. Cheese Pizza
If your guests don't like ham and pork, this cheese pizza is a great alternative. Domino's has about five different kinds of cheese pizza because they take cheese very seriously.
You can tell their cheese pizzas are made with high-quality ingredients. The mozzarella, Monterey Jack, and white cheddar are all present in roughly similar amounts.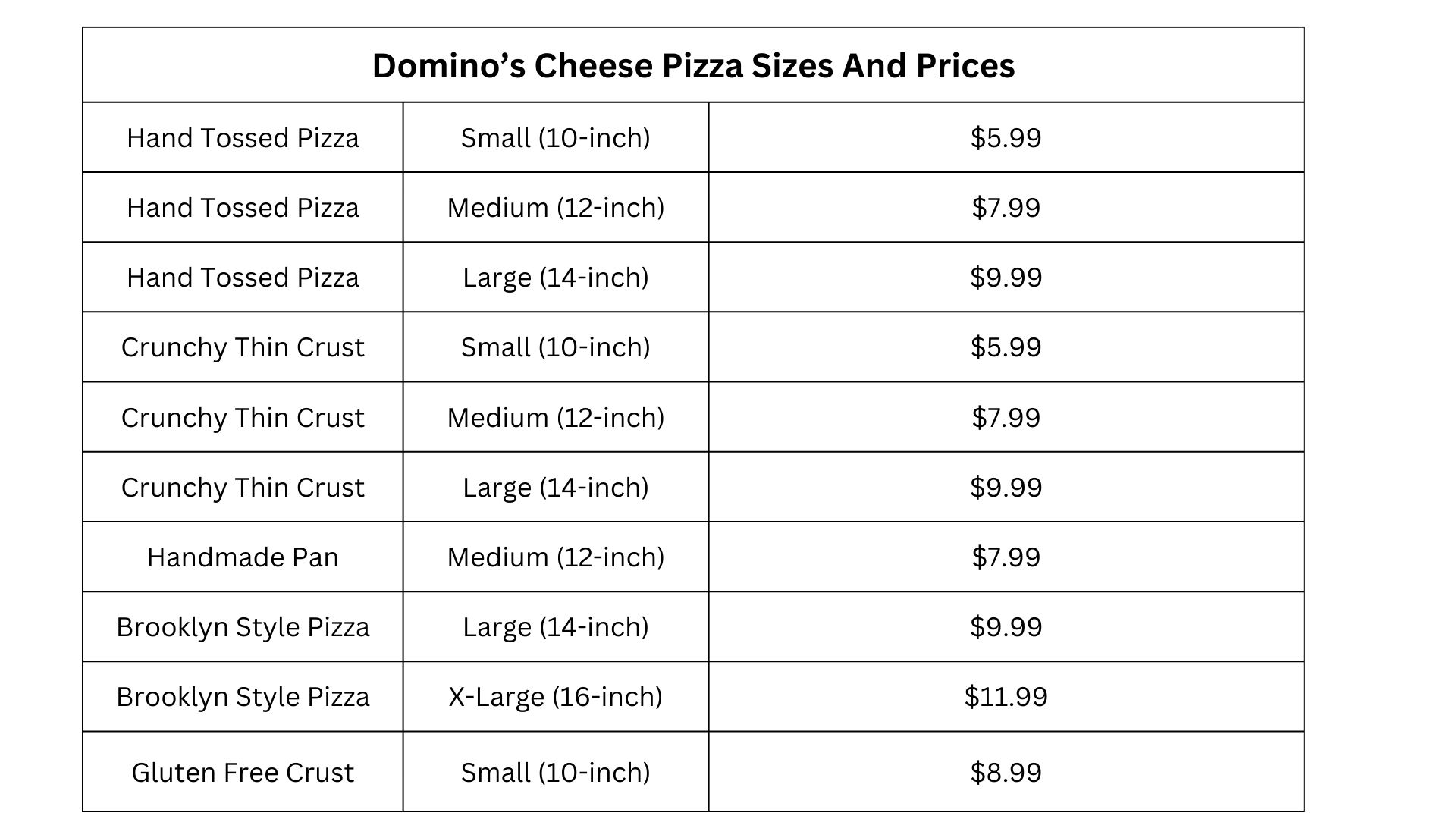 In addition to their standard cheese pizza, they also offer a pizza with a broad range of toppings that any pizza lover is sure to enjoy. Domino's cheese pizza is offered in a range of sizes and prices.
2. Specialty Pizzas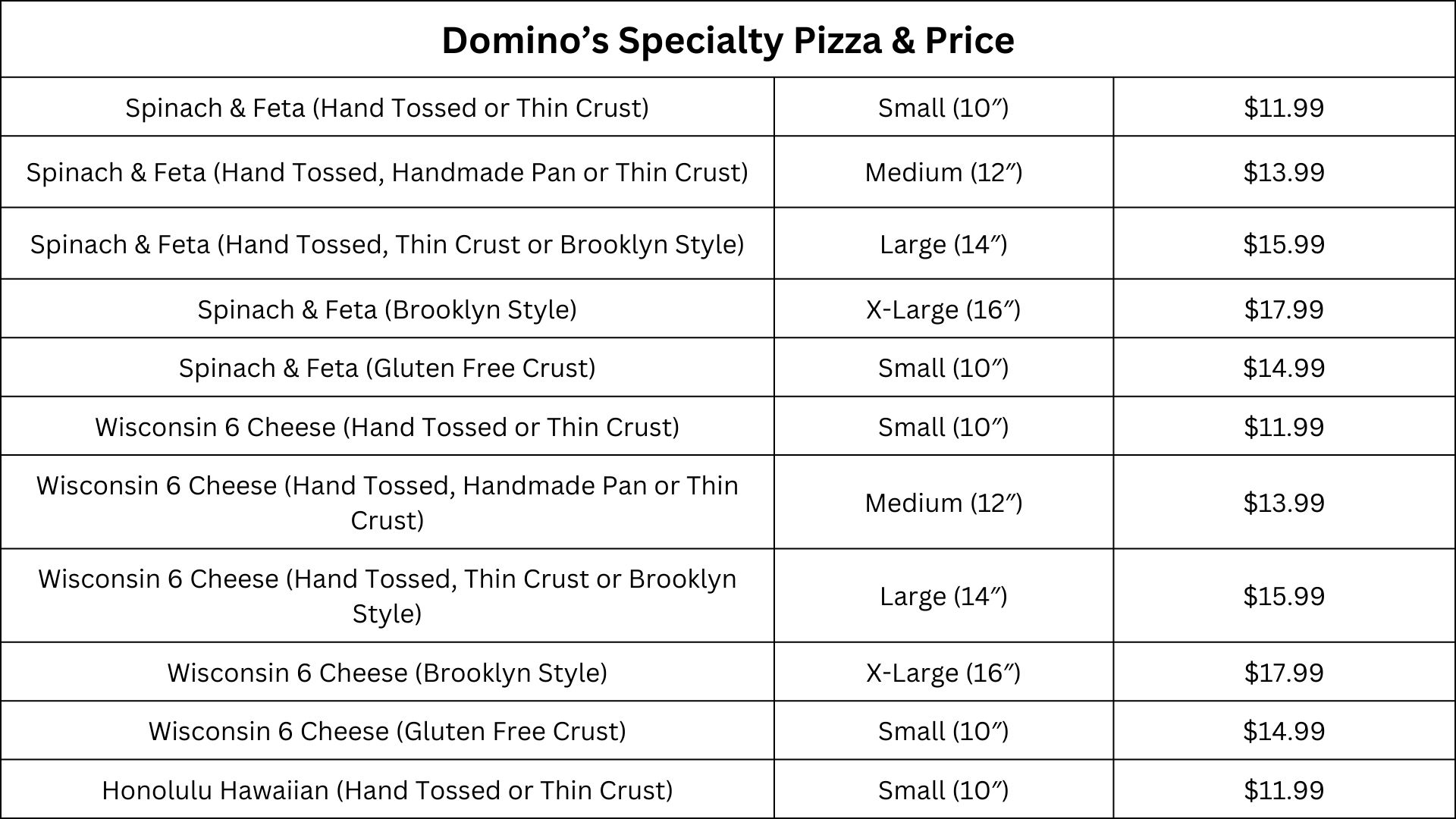 If you're a fan of the American Legends pizzas named after regions and chefs across the United States, the best Domino's pizza to get is one of the specialty pizzas.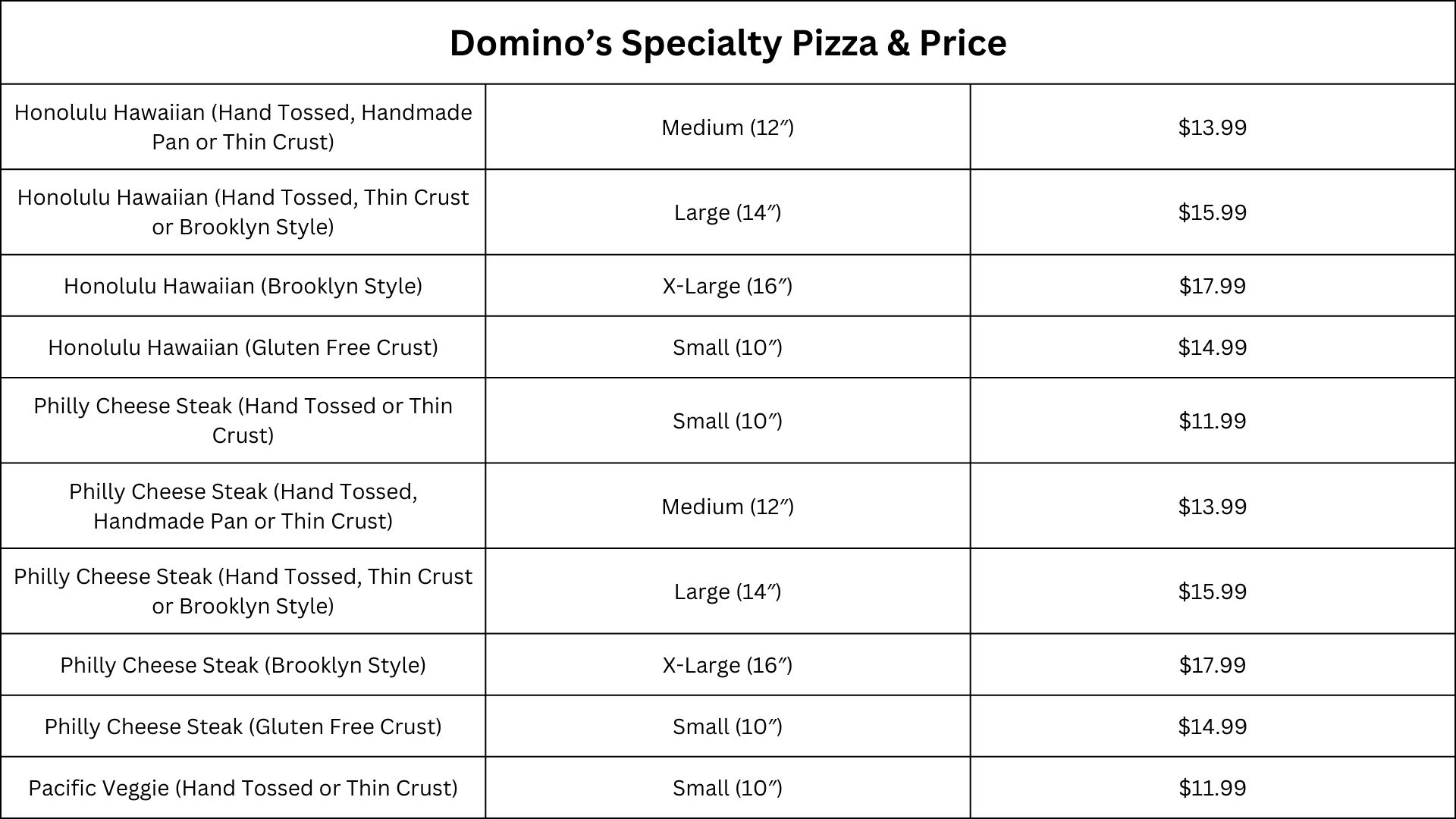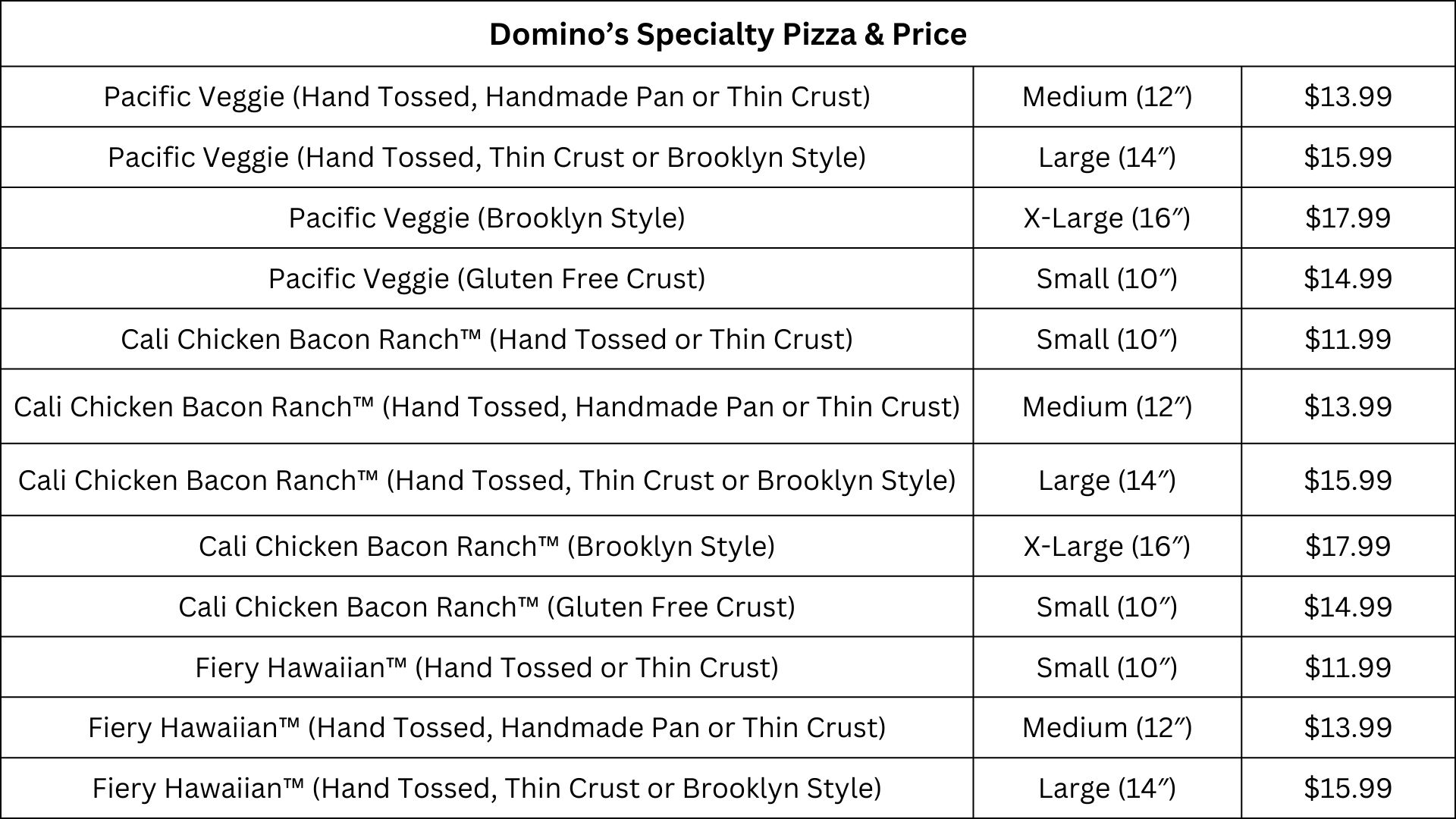 Domino's has worked with several event planners to create the ideal themed pizza for their upcoming events. These functions will provide you with more than 2000 different pizza styles.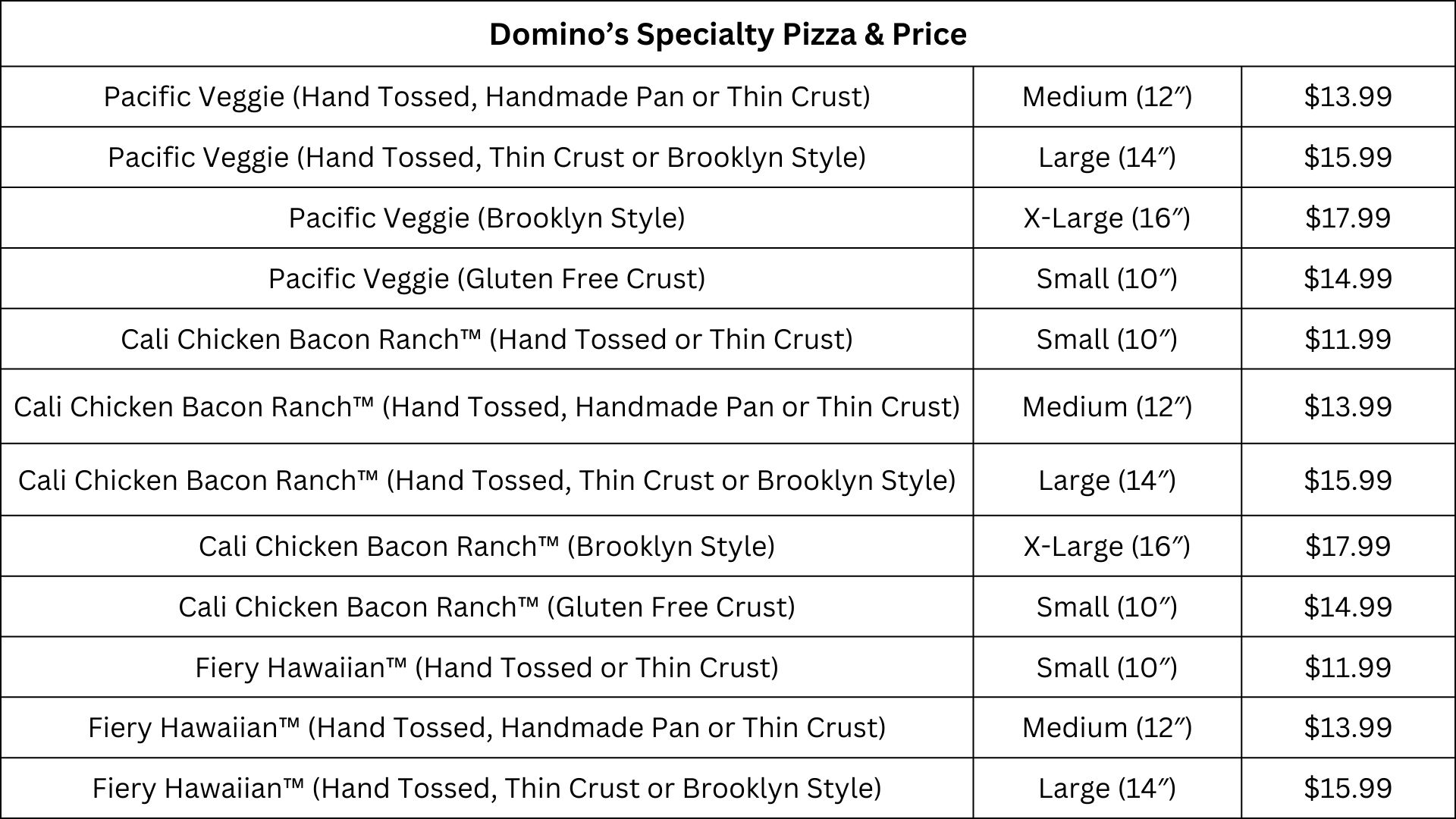 3. Feast Pizzas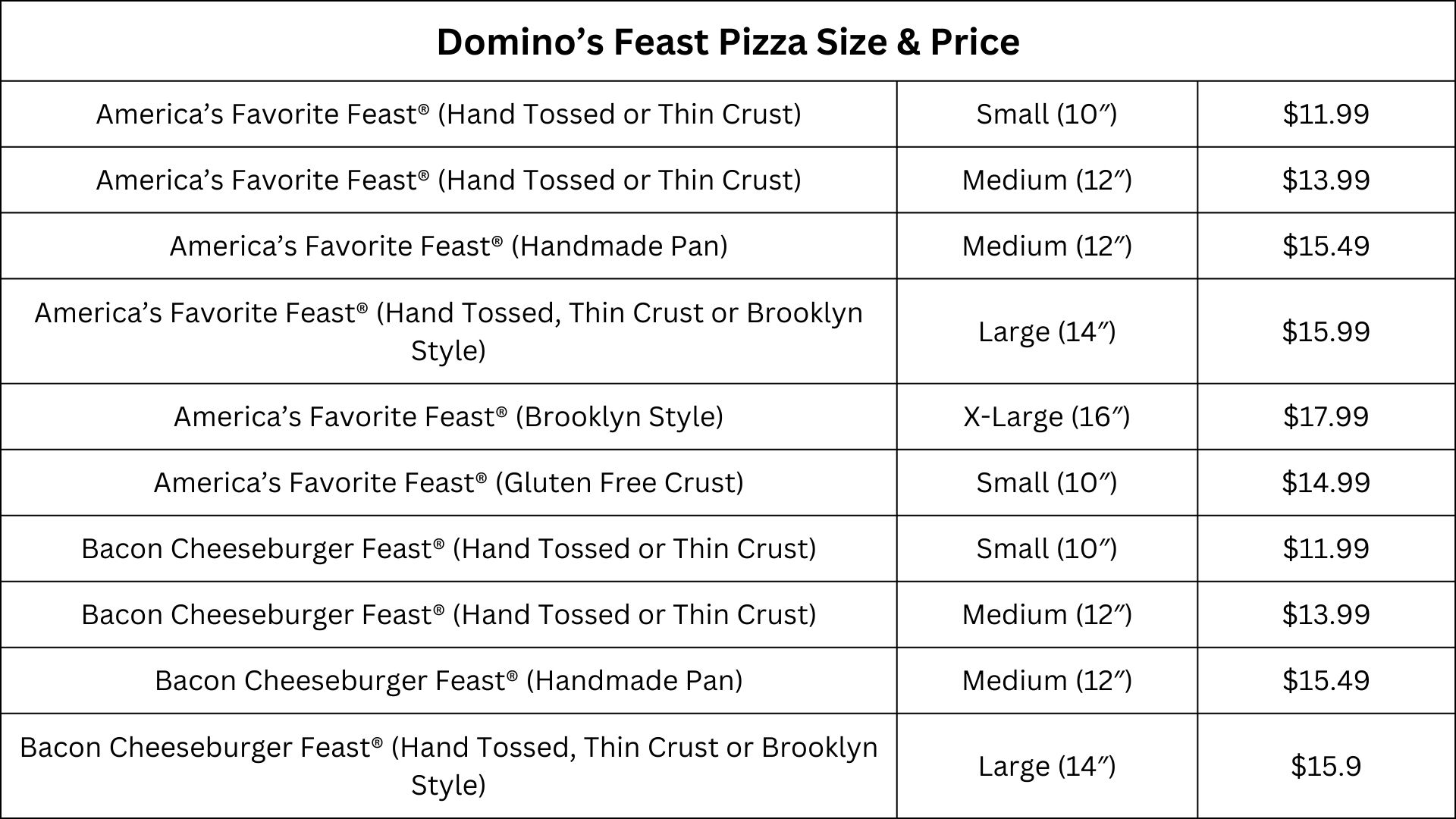 The Feast pizza from Domino's has a wide choice of tasty ingredients. It includes cheese, delicious mushrooms, vegetables, mozzarella, and additional pizza toppings. Due to this mix, it is a delicacy that any pizza enthusiast will like.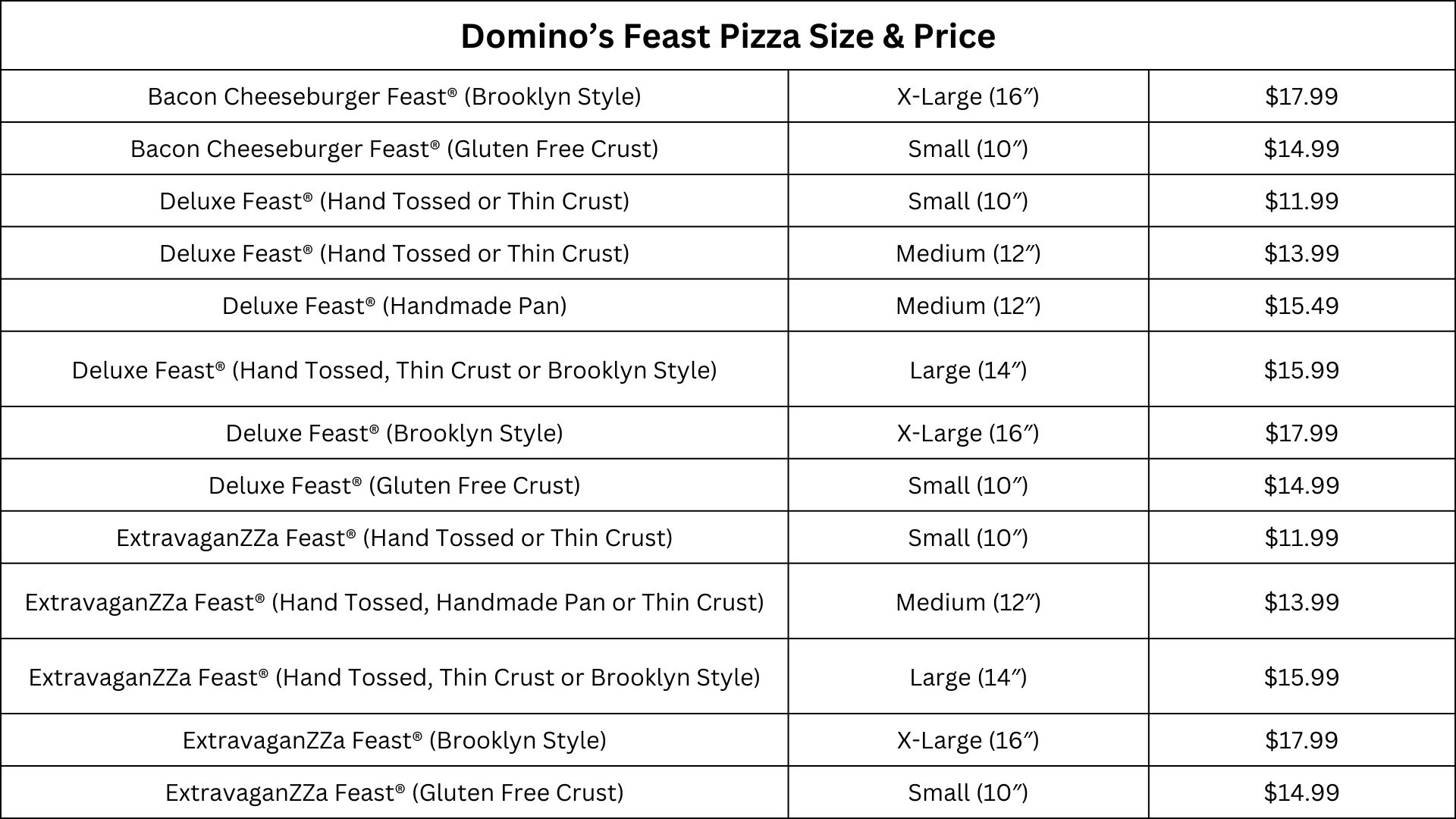 You can order your preferred toppings or crust thanks to the extensive menu. Only mozzarella cheese was used for this pizza. It is more suited for events with large gatherings, such as meals or parties with friends and family.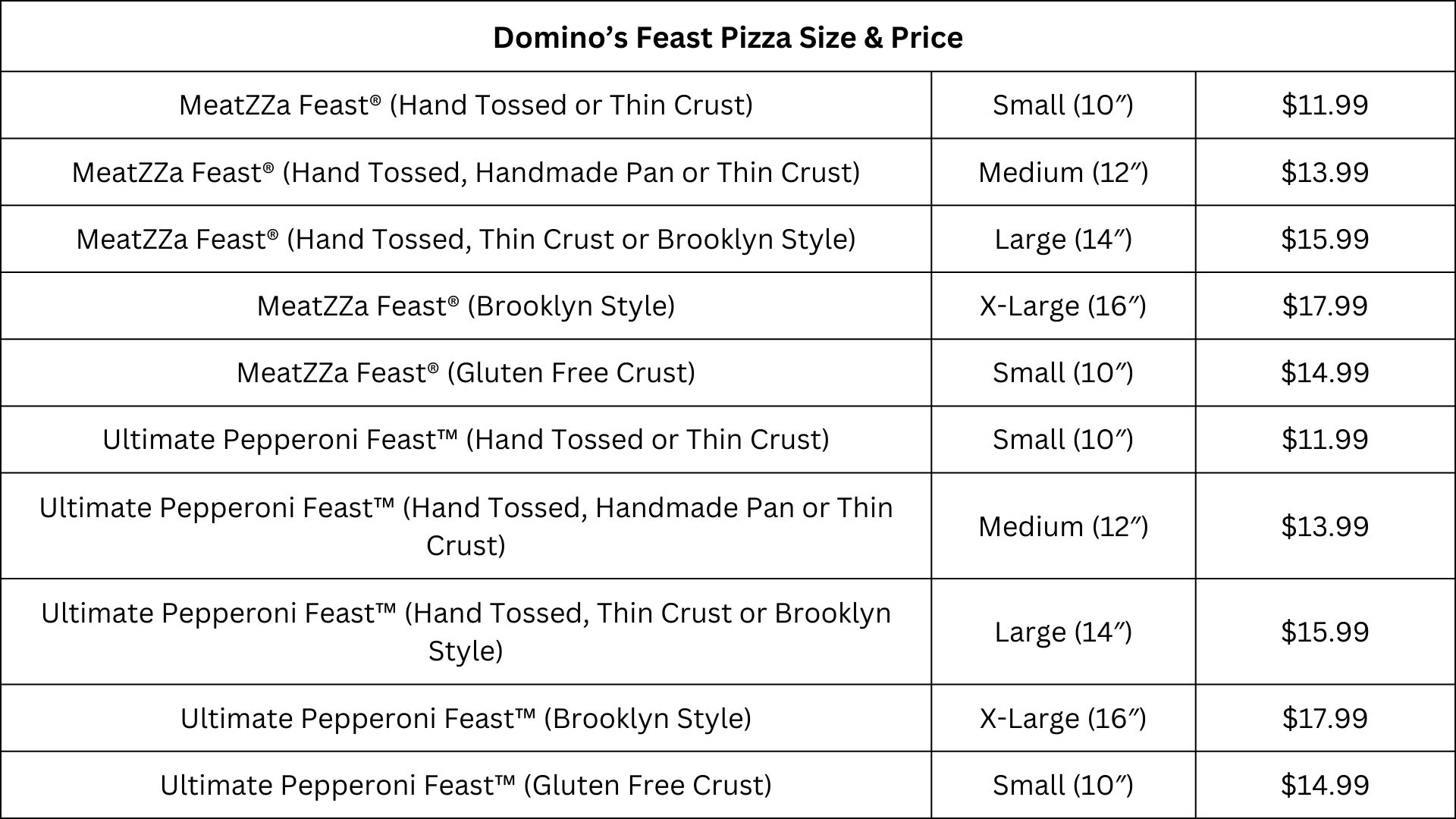 How Many Domino's Pizzas Do I Order?
A pizza order can be a real headache when you're feeding a large group of people. Any errors in the calculation may result in sad faces and dissatisfied guests. Additionally, you will need a strategy for handling leftovers if you accidentally purchase too much.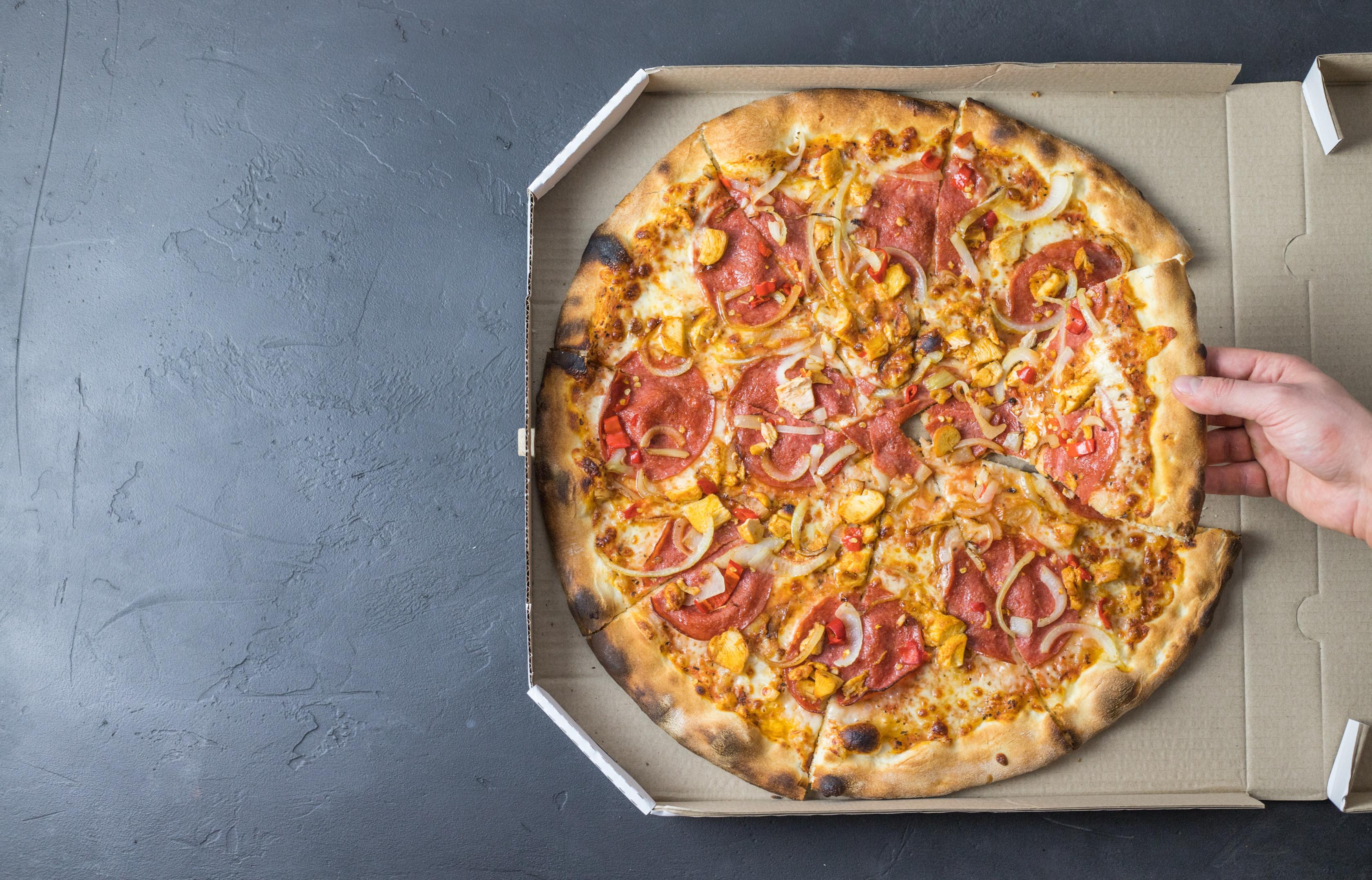 Think about the number of guests and how much food they will need. On average, an adult would eat three slices, whereas a child would eat only one or two.
Consider purchasing a pizza with an increased number of slices if you intend to serve it at a children's party. Don't force them to stop eating when they're full, but do make sure they're full. Furthermore, the quantity of slices is frequently more essential for children than the size.
It's sufficient to order a single small pizza for two people. However, a medium or extra-large pizza could be just right for a group of four people.
However, if you're inviting many people, it's best to get pizzas that can feed everyone. In the long run, buying a large pizza is not only more economical but also more practical.
How To Order Domino's Pizza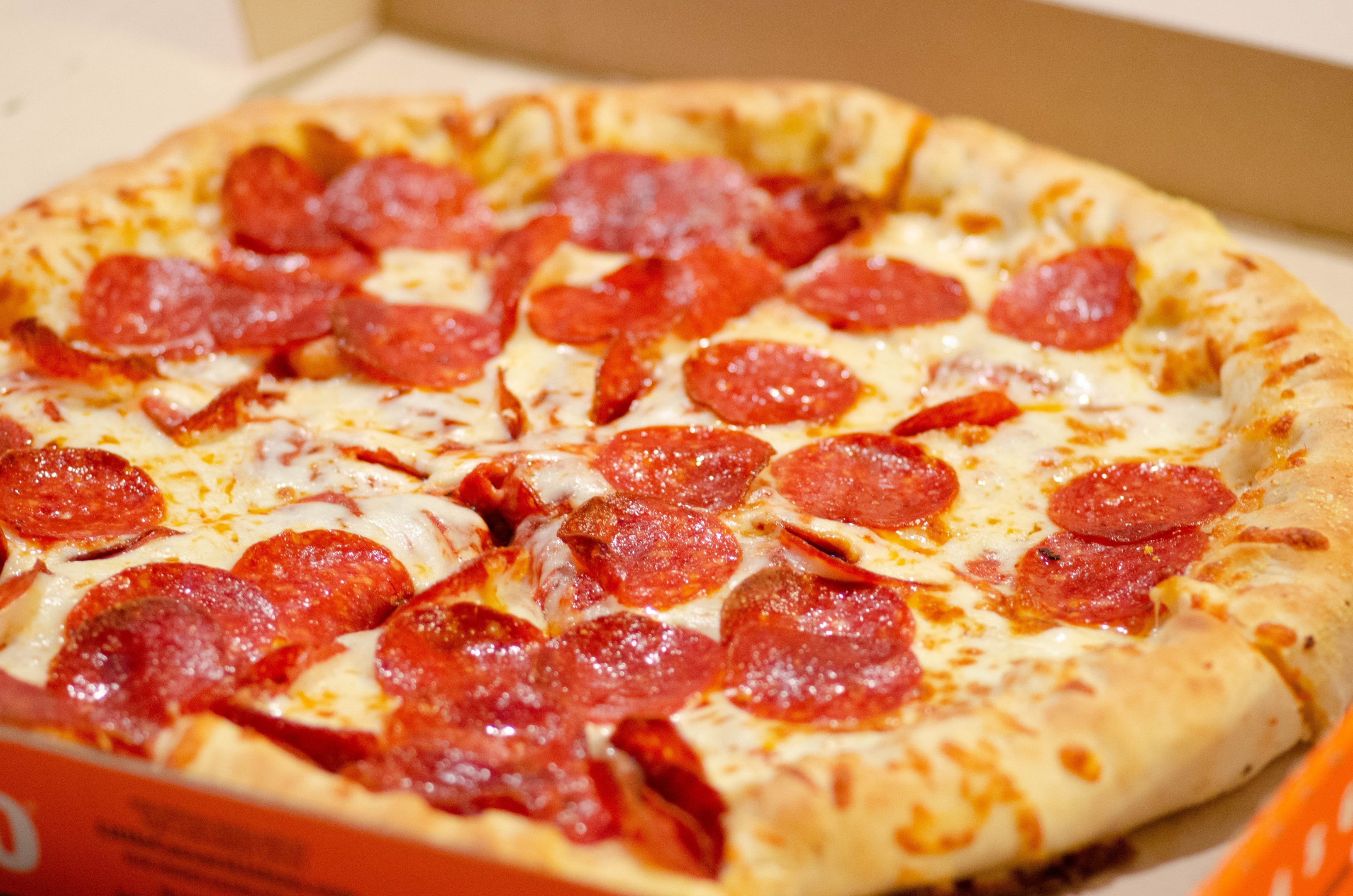 Domino's is often recognized as the most hassle-free pizza joint due to its straightforward ordering process. Even making delivery arrangements for you is a simple order you can give to Alexa!
Although the conventional walk-in order still functions, you could prefer to adopt the more practical systems. Domino's even uses a drone to deliver pizza to your house in the United Kingdom.
Other Ways To Order Domino's Pizza
Domino's can also be ordered in a variety of other ways:
Placing an order on Domino's website
Calling the store
Place orders in-store
Alexa
Google Home
Facebook Messenger
Using your smartwatch
Put a pizza emoji in a text message.
The Samsung Smart T.V.'s Functionality
Using the Domino's App
Use the hashtags #Domino's or #pizza in your tweets.
Tips For Ordering The Best Domino's Pizza Sizes
You don't have to buy pizza with all of your money. Rather, you can save a ton of money by checking out our top Domino's pizza hacks.
If you want to save money, homemade pizza is the way to go. However, we know that nothing ever quite lives up to the original. This means that you will surely place a pizza delivery order.
Furthermore, we have a few tricks that help reduce the cost because we know it's not easy to part with the $20.
1. Order Large Pizzas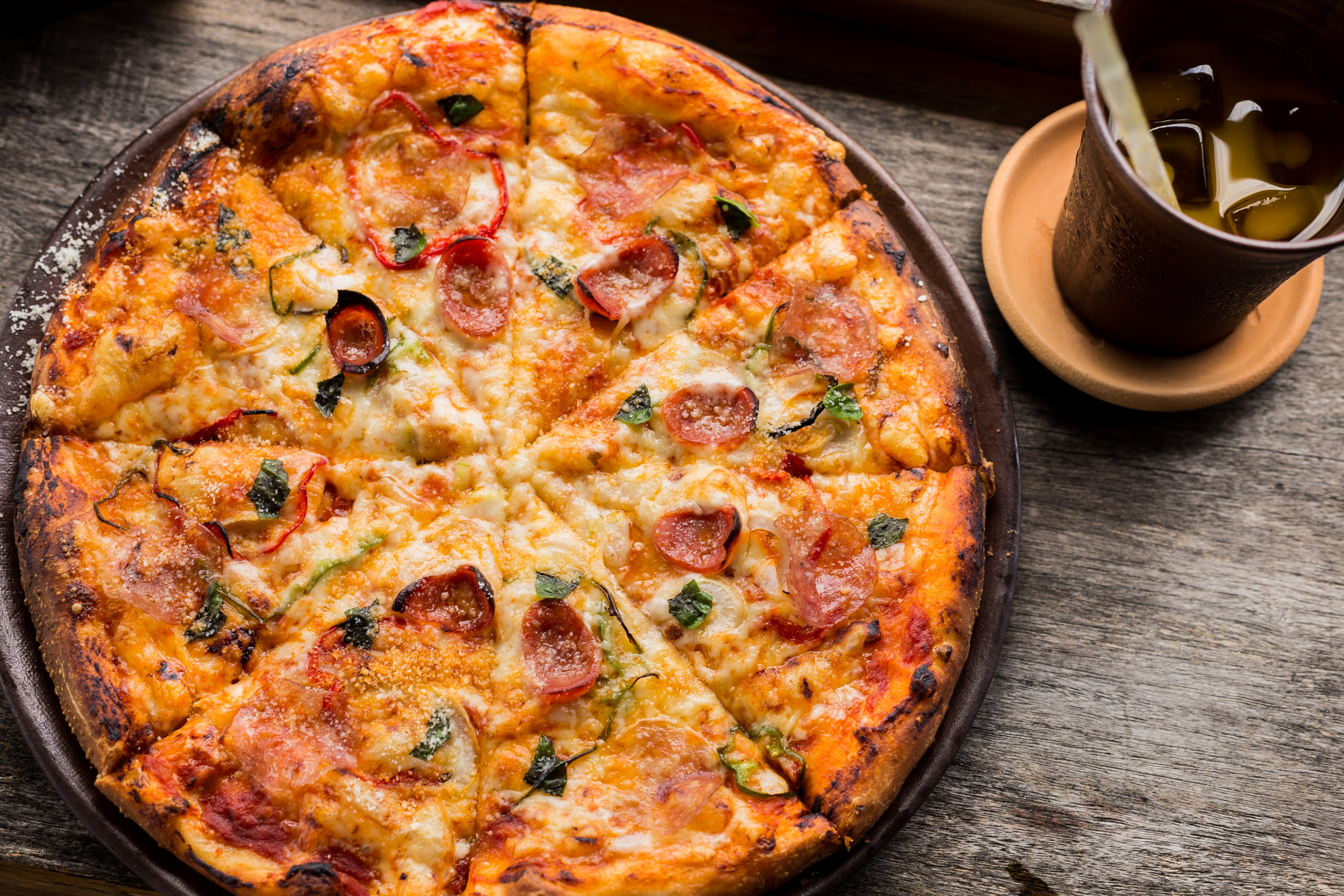 Although two small pizzas can be the same size as one large one, the pricing is different, which needs to be fixed. It's not uncommon for one giant pizza to be far more substantial and economical than two small pizzas.
The average pizza in the U.K. is 9.5 inches in diameter and 70.9 square inches in size, costing 7.99 euros. However, the huge pizza is 13.5 inches across (or 140.1 square feet) and costs around 16 Euros.
One large pizza costs around $8 less than two small pizzas, so if you do the maths, you'll get an extra 1.3 square inches of pizza. If you want more food for less money, purchase a large pizza from Domino's.
2. Super Tuesday At Domino's
If you only eat pizza once a week, Domino's has an appealing deal for you. You can get two pizzas for the price of one on Tuesdays at Domino's. The two for Tuesday promotion sets a limit of two for one for all pizzas. Therefore, if you order two large pizzas, you will only pay for one.
Of course, the pizza is the same quality regardless of the price. This isn't even close to the clearance of old inventory. Domino's is simply making an effort to reach out to you. Check to see what a Domino's store near you has to offer and make it happen!
3. Offers for Students
Domino's offers students a 35% discount, so if you're a student and you're craving pizza, be sure to bring your I.D.
This discount will come in handy if you want to throw a pizza party at school. In addition, domino's offers a special 25% discount to students who place an online order and spend over $25.
Pizza Hut Vs. Dominos: Which Pizza Place Is Better?
We have compiled a comparison of Pizza Hut vs. Domino's to help answer this question and put an end to the long-running argument.
1. Pizza
If you've tried pizza from both restaurants and know what's good for you, you'll know that a Domino's pizza is the way to go.
Pizza Hut features a deep-pan base that is fluffy and focaccia-like, with a somewhat spicier sauce than Dominos. Domino's pizza is superior in terms of the overall flavor and dough ratio to toppings.
2. Size
While most Pizza Hut locations offer far larger quantities at the same price as Domino's, the former has a better taste.
Pizzas at Dominos are limited to 13.5 inches, but those at Pizza Hut are available in various sizes, including 14 inches, including the Thin Crust, Cheesy Bites, and Stuff-Crust. Pizza Hut is the clear victor for those who value size over quality.
3. Toppings
Pizza Hut and Domino's are typical pizza chains in that they both provide a wide variety of toppings. Both eateries can satisfy your cravings for traditional pepperoni, BBQ chicken, bacon, ground beef, or only vegetables.
Due to Yum! Corporation's ownership of multiple fast food chains, including Pizza Hut, Taco Bell, and KFC, the former has been able to team up with the latter two to develop unique pizzas over the years. As a result, the pizzas at Pizza Hut have a more desirable assortment of toppings.
4. Price
When deciding between Pizza Hut and Domino's, the cost is important. Domino's has a well-deserved reputation for being more affordable. Let's be clear, the comparison here is between these two franchises, not between them and your neighborhood mom-and-pop pizza place.
In the United States, Pizza Hut is often the most expensive, and adding toppings will raise the price even further unless you order a specialty pizza.
5. Availability
While Dominos only has 17,600 outlets, Pizza Hut owns and manages a little over 18,700 locations worldwide. So even though the statistics are similar, the answer to this question depends on how many stores are located in your immediate area.
Pizza Hut and Domino's restaurants can be found all throughout the United States. However, depending on the expected growth of each company, there might be more Pizza Hut or Dominos in other nations.
As a result, both are easily accessible, but there is no way to tell since it varies from customer to customer.
Honest Review
Domino's is well-known for its "30 minutes or less guarantee," yet this promise has gotten the company into some significant legal trouble in the past.
Most locations no longer provide this service, but they do guarantee that your food will arrive soon and steaming hot. And I must say, they do not disappoint. Although some locations may offer seats for customers to eat in, most of these fast food joints only offer takeout and delivery.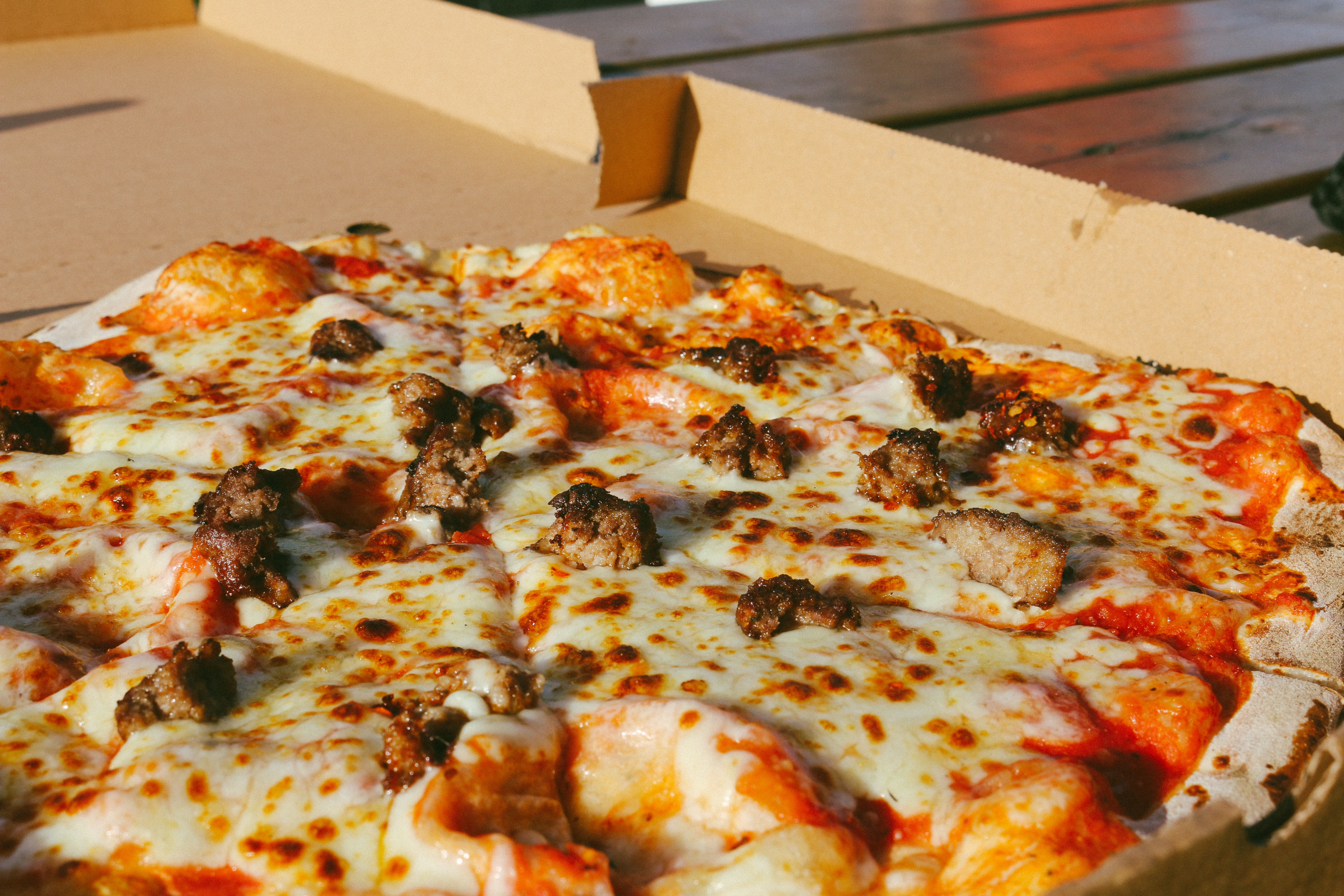 The menus are tailored to the resident's preferences and dietary restrictions. Every branch has the same menu options regardless of where you go. The chain may have grown, but it hasn't forgotten its origins.
It's safe to assume that pizza will be the main attraction at every restaurant you visit. There are numerous sizes and flavors available, including the traditional cheese and tomato, pepperoni passion, Hawaiian, hot & spicy, and countless others.
They have a large variety of appetizers so that everyone can find something they like, including chicken wings, pasta, specialty bread, and potato wedges.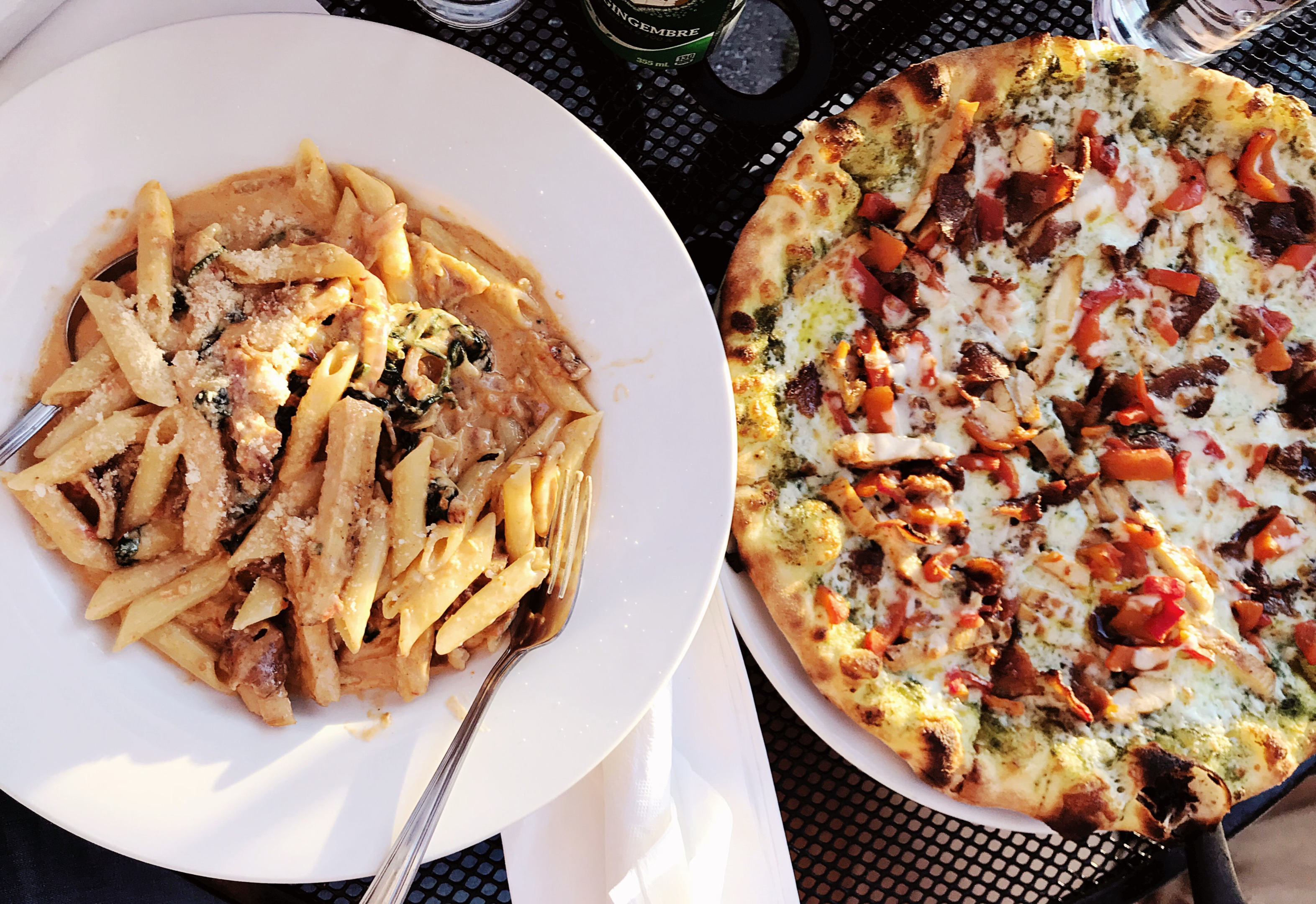 Additionally, they have a wonderful range of sweets for those with a sweet tooth, including ice cream, homemade cookies, and brownies.
Best of all, Domino's prices vary widely depending on pizza size, dough type, and toppings, starting at just $5.99 and going all the way up to $17.99. In addition, there is a pricing range from $2.99 to $7.99 for their sides and desserts.
This pizza restaurant is well-known for its speedy delivery service, as well as its delicious pizza and assortment of excellent sides. They've been in business for over 55 years and are still one of the world's largest pizza chains.
Frequently Asked Questions (FAQs) on Dominos Pizza Size & Price
1. What are the opening and closing hours of Domino's?
Domino's typically opens at 10. However, some stores might not get started until 10:30 or 11. Then, in most places, they shut down at around midnight. But there a few outlets are open till one, two, or even three in the morning.
Domino's is not open all the time, either. Pizza can be delivered till midnight Sunday through Thursday. They deliver until 1 a.m. on Fridays and Saturdays.
2. How many pizzas does domino's sell a day?
The total number of pizzas sold can differ widely from one restaurant to the next. The busiest can handle up to 200-400 orders daily, while the slowest only receives 50–80.
3. What Other Foods Does Domino's Sell?
Like other major pizza restaurants, Domino's offers a variety of other tasty delivery meals in addition to pizza. These include;
Sandwiches
Salads
Pasta
Sauces
Beverages
Chicken
Desserts
Bread
Featured Image Source: tripadvisor.com